Regarding experiencing, I'm happy to see that the organizers have included a trip to the Geiranger-Fjord. As a location on the UNESCO World heritage sites I am sure that this will be an exceptional experience. It would too bad travelling to this region without seeing Geiranger. 
As with many locations being attractive worldwide, also Geiranger is struggling to find the right balance between tourists and environment, and researchers by the University College are performing a joint project in this respect. Hopefully in a little bit more then peripheral role.
The topics
The topics being discussed at this conference deals not so much with how to perform journalism and produce media content, as often is the focus of the daily chores of media workers as well as being basic and necessary skills which media students in Volda are expected to learn. But you will discuss topics more in the direction of relations and blurred boundaries as well as the reversal of the roles of media and audience, and you have chosen the term peripheral actors as the most important concept to focus upon in this context.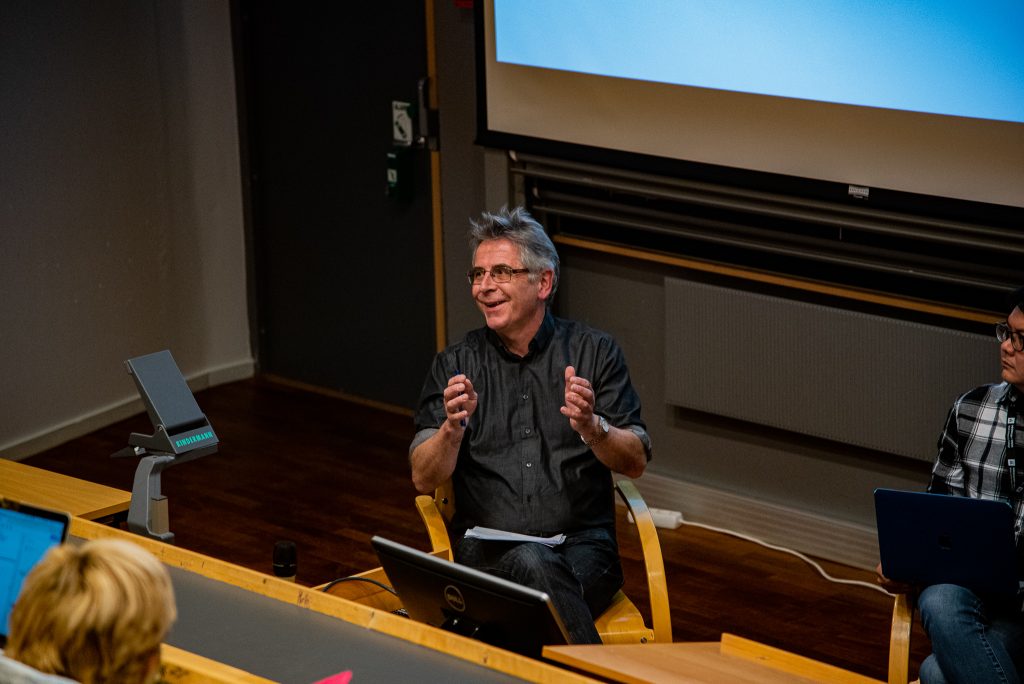 Why are these topics so important? Why are they important now? And why is Volda a good place to meet to discuss these issues?
Starting first with why Volda, why here?
Arriving in Volda, doing slalom twists between fjords and tunnels if You arrive by road, or slalom twists between mountains and skies if you arrive by air, one might be a little surprised that this small community by a deep fjord has earned such importance in professional training of journalists and other media professions in Norway.
In order to understand this one needs to know just a little bit of Norwegian as well as local history. In 2017 four people with strong attachment to this region were appointed honorary doctors by the University of Bergen. Two were famous: The Noble price laureates May-Britt and Edvard Moser within the field of brain research; the world class industrial designer Peter Opsvik, whose designs have been produced in this region; and thirdly a former professor by the Volda University College, dosent Jostein Fet. So, the region of Sunnmøre has world-class scholars, as well as world class industry, which in itself is quite remarkable.  
Maybe some explanation for this tradition has been uncovered by dosent em. Jostein Fet. His field of study has been the early reading and writing culture in this region. The last 50 years he has gathered unique historical material. Instead of old texts being lost or burnt, Fet's research has given evidence of this region being saturated with and enlightened by a diverse written discourse, across genres, spanning centuries and starting earlier and being more widespread than previously conceived.
This in contrast to the dominant paradigm who claimed that reading, writing and thereby knowledge was confined only to the elite – to the priest and maybe the few others with academic training.
This long-running tradition of writing culture also has connections to media. More than 200 years ago one of the first printshops as well as newspapers in Norway was establish in this local community. It is still running, with the same family in charge.
About 150 years ago the scholar Ivar Aasen introduced nynorsk language, based upon dialects, again in contrast to the elite paradigm who claimed that knowledge only could be achieved by speaking Danish. 
About the same time a teacher's training academy was established in Volda – and this later become the Volda University College.
50 years ago, media studies were introduced in Volda, with Jostein Fet being one of the strategical actors linking academic teaching, nynorsk language and the media tradition in this region by suggesting that journalists and editors in the local press would be in want for professional training at a university college.
But in the 1970-ies and 1980-ies the focus changed from press to a wider scope of media, in particular broadcasting: In Norway the first professional training of radio, TV, film, especially documentary, as well as animation would happen here in Volda. Being far from the big cities, Volda excelled in other ways: Students were allowed access to expensive equipment, 24/7, as in this peaceful place nobody steals or kills. Students becomes closely linked to teachers and each other and run all kinds of projects together. In bigger cities media students tend to be atomized and eager to enter professional media companies as early as possible – while in Volda they actually focus upon studying.
And the students loved Volda. From all over Norway students learnt about the media studies in Volda, and the number of applicants was at times extreme. Thus, we received top quality students. Strictly in numerical terms, it was much harder to become a student than to become a teacher by the department of media and journalism. Not least because media studies were a new field in the Norwegian University system.
But clearly the focus was shifting from print and press to pictures and electronic media, so Volda was a multimedia school well before the multimedia or competing concepts such as convergence, transmedia or multiplatform was known by the general public.
Another important aspect of the proto-multimedia learning environment in Volda was the mix of people, of different professions – different fish in the same little pond of Volda. Journalists and Communication professionals were mixed, everybody got a dose of film and animation.
Being in a close-knit local society, there were short distances between the media school and sources as well as the general audience. The very same people you write and talk about in the morning will meet you at the groceries or the movie theatre in the evening.
This has brought closeness and free lessons in media training to a large proportion of students by the university college and the people in Volda. On the other hand, sometimes the hard-hitting journalistic tools has been felt like overkill. Still, the important thing again is that all of Volda and the surrounding region has been used to meet students with their cameras and other equipment – the people of Volda are used to this. Accepts it. And are sometimes proud of it. Not least because all over Norway Volda is well know because of the University College, and probably even more because of the Media school.
Today the University College has 500 media students in 7 programs: 6 bachelor programs as well as an Master in Media Practices, which is a multi-disciplinary English program, the first English program by the Volda University College. The bachelor degrees are within journalism: Broadcasting and Online/press, Communication and Media production, Animation and Design. The degree in broadcast journalism the last decades has been the jewel of the crown, and also in the future will be of the highest strategic importance of the Volda university college to maintain this position. Almost at all costs.  
This fall a new board, a new høgskulestyre, will start its work. I will continue as rector, and together with the staff and students by the department we will discuss the future strategy of the school as well as the media department. Quality will be a crucial issue in this work, both regarding research and teaching. The Department of Media and Journalism will have a crucial role in this respect, as we have high ambitions, and also have applied for status as a national Centre of Excellence in teaching (SFU). Any day now we will receive message of the outcome of the process, competing with 22 other candidates, and all the other departments of the University College are really hoping for a positive result. 
25 years ago, in 1994, this institution was formed by the merger of the former teachers training academy and the Regional college which the media department was part of. At the same time a new regulatory regime was established, stating that regardless of the name, both universities and university colleges should be considered equal in regulatory terms, and regarding quality. This also meant that research became far more important for the Volda University College, and we were allotted research grants and funding for doctoral students, which we expect to be integrated in the ongoing research by the department. 
We are actually celebrating 25 years as a merged institution as well as 50 years of regional college in Volda on Thursday 20th 2019.
Research has over time become more important for the university college, and research means to connect to the international community of media researchers. Previously we have done so also by other conferences in Volda, most notably an international conference on Media and the Cold war.
So now I do hope that we can all see: Volda is an excellent location for looking into news work, multiplatform content and peripheral actors.
Why are the topics important, and why are they important now?
The traditional professional perspective of journalist and media institutions considering themselves to be gatekeepers, points of access between sources and the general audience. This media-centric model probably never was quite accurate and of course was challenged by media research. Mr Gate was nowhere to be found. The audience tended to trust other people rather than omnipotent media. And journalists have never been in high esteem in the general public.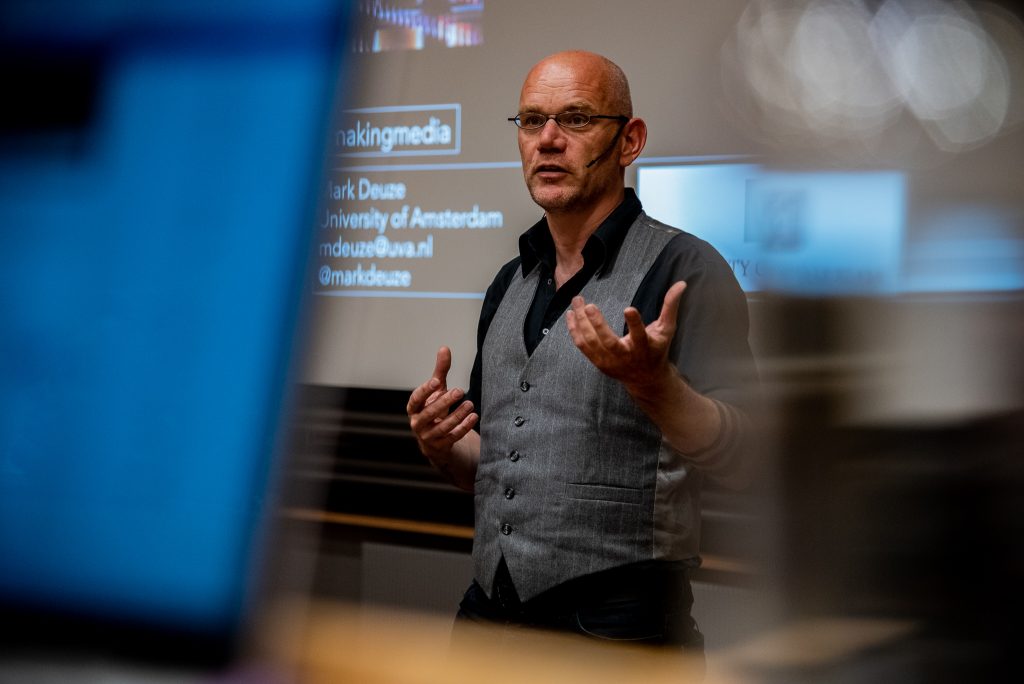 Still the old paradigm prevails, as we hardly know what comes next? We need someone to call out fake news. We need independent media to reveal corruption. And the political discourse and democracy itself needs a middle ground, room for thought and deliberation. The polarising forces of today seem to thrive and maybe grow stronger by use of peripheral actors.
Thus, Your symposium is concerned with crucial issues facing both media in today's media ecology in which disruption is the buzz-word of the day, or maybe decade.
In my view, the issues to be discussed at this symposium touches the core of the problems media as industries and institutions are facing, thus also being at the core of media studies and the training of media professions, being it journalist, communication work or
From my little story of how Volda became an important media school in Norway you might remember that distribution of and access to media technology, being it the printing press 200 years ago or the students accessing expensing TV-equipment some 25 years ago: Technology, distribution channels and even knowledge of media, journalism and communication in Volda always have been med available locally, giving students and the general public easier access to the media tools and maybe empowering students and the actors and people of Volda in respect to media.
And from my perspective this must also be considered a good thing – in theory making media as a general term more democratic. But as we know – the downsides and obstacles are to say the least – considerable.
So when supporting strongly your over-arching research issues, I would also say that it's wonderful that you are focussing upon ongoing research and promoting discussion.
And …
Returning to You most interesting programme I am also happy to see that You are also having sessions branded «Eco-friendly video-conference». I do hope that the participants also are eco-friendly.
As You probably know, close to 100 percent of electricity produced in Norway is generated by hydropower. Including your trip to the mountain Hoven by gondola. 
I also have seen that You have the option of a voluntary hike with to different levels of ambitions. Here I must say that outdoor-life, including outdoor guiding is an extremely popular course by the Volda University College, and of course this makes great sense because of our location and surrounding. 
As I mentioned earlier: We would be happy to see You again in Volda. If You would like to come to Volda in order to cooperate with our staff we will make the necessary arrangements for Your stay to be a pleasant and interesting. Just like we experience when our own professors and staff travel abroad.
So again: I hope You enjoy Your stay in Volda, and please enjoy both nature and the scholarly community. And I'm sure You will find when leaving Volda that the motto of our college really is quite accurate:
Volda – the place you'll never forget.