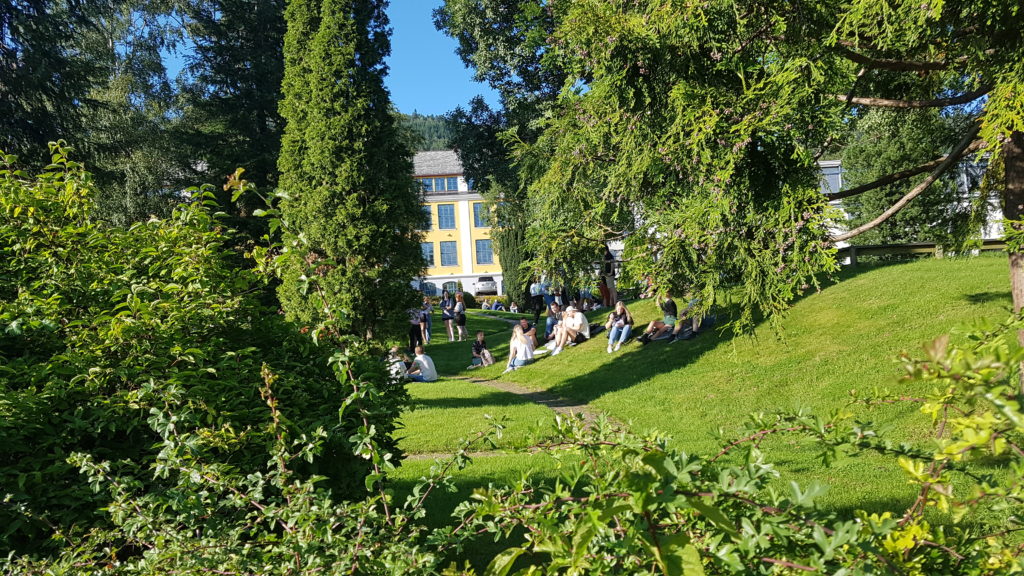 By Johann Roppen, rector of Volda University College.
On behalf of the staff I'm very happy to say: Welcome to Volda University College and to the student town of Volda.
Our English motto is: Volda is the place you'll never forget! Each and every one of us must do our best to make sure that we all have good memories from the time spent in Volda.
As you now have chosen Volda, it may also be assuring for you to know that many other students also have chosen Volda. The number of students is at an all time high, and after graduation most of you will find exciting jobs. As you walk around campus you will see there are a lot of construction work going on, and there is more to come. In 2020, SiVolda (the Student Welfare Organization) has opened two new student dorms. There are also two large buildings being constructed in the middle of campus: A sports arena with a climbing wall, to be opened by Christmas, and the new building for media studies which will be completed by next summer. I hope that this will become the greatest media house in the world!
We are a small university college. Teaching is spread over many different buildings on campus and you can walk to most locations in Volda. So maybe Volda will be less affected by Corona than other places. But at the end of the day, this will only be decided by ourselves and what kind of knowledge we acquire, and use, regarding the virus, the infection and the crisis.
The Corona-crisis is one of the major challenges to society in our time, together with challenges regarding the environment, inequality and peace building. The challenges can only be solved by us gaining, sharing and using knowledge. In this respect, handling the Corona crisis is not different from other challenges.
This kind of relevant knowledge you can gain from the study programmes offered at Volda University College. Not only will you get a job after graduation, but you will also get knowledge for the future – you will be learning for life:
In Volda you can become a teacher, social worker, media- or cultural worker, study mangamenet, or specialise in the humanities. One current example shows the relevance of historical knowledge: Knowledge of the Spanish flu one hundred years ago now has become very important. Because of Corona.
But what can you do in order to "learn for life" and get knowledge for the future? You will get it all by co-creation with your fellow students and teachers. You should have high expectations for yourself. You should contribute to your own and others' building of knowledge by being active, curious, critical – and sharing.
Think global. Act local. This also applies to you as a student at a university college. Take care of yourself. And take care of yourself by taking care of others.
Especially this year: Take care of yourself and others by following the rules, for instance keeping one meters distance. Pay attention to the number of people being allowed to enter a classroom. Maintain social distancing also in the cafeteria and in the Library. We must also respect other local regulations which surely will change during the year. Please help and support each other by paying attention to information, by sharing and following rules. This might be lifesaving knowledge.
You are now in the region of Sunnmøre, which has several world class tourist destinations. We have razor sharp mountain peaks, wild winds and an abundance of clean water. But the mountains of Sunnmøre are unforgiving and people lose their lives in our mountains every year. So, take care of yourself and others. Gather the knowledge needed in order to hike safely – but also in order to get the most out of the experience in a part of Norway which also will give you memories – for life.
Best of luck with the academic year 2020-2021.