This is a translation of rector Johann Roppens greetings for new students, August 2021. The welcome-speech was part of the video presented for new students August 17th 2021. The text is also available in Norwegian.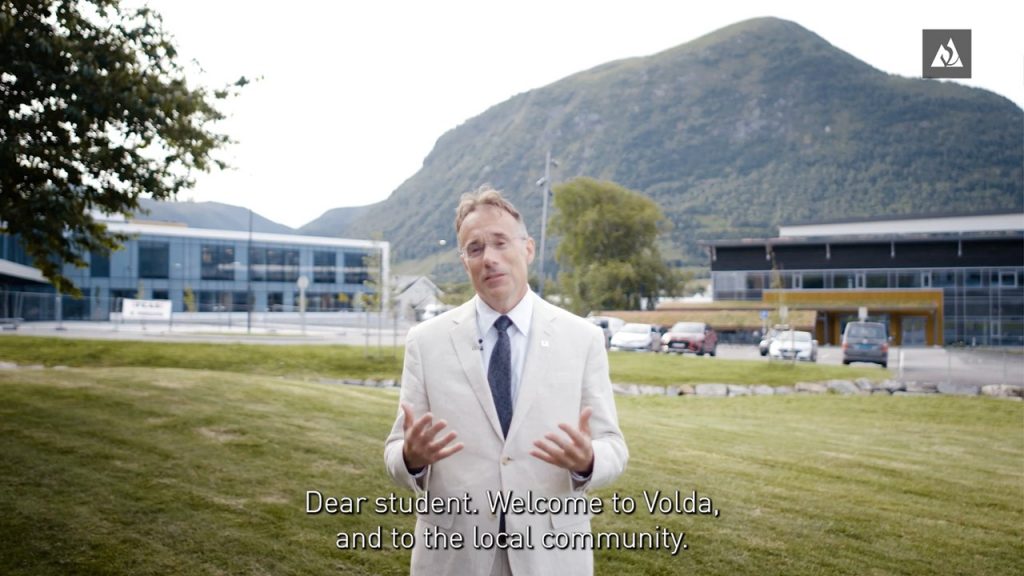 My name is Johann Roppen, and I am the rector of the Volda University College.
On behalf of the staff I'm very happy to say: Welcome to Volda, and to the local community.
Our English motto is: Volda is the place You'll never forget!
We hope you'll have fond memories of your time in Volda, whether you stay for a year, earne a BA or an MA – or go for a PhD together with us.
Great developments have taken place on the campus: This fall the new media building is completed: The shiny-white Sivert Aarflot-huset, which I hope will be #The-worlds-greatest-media-building. Close by, the new sports venue Volda Campus Sparebank1 Arena is just inaugurated. And we will continue to improve and construct new buildings in the coming years, all for the benefit of students learning, living, and experiencing Volda.
Learning, living – and experiencing. They are all important aspects of student life – and acquiring knowledge.
Earning a degree in Volda will give you knowledge for your personal growth. And later on you will be able to find jobs. Jobs with a purpose and of importance to society.
If you find it meaningful to help others – to convey cultural content, to develop and educate children and young people, or to work for the benefit of democracy. Then all of our programmes will give you meaning and purpose.
And what does society need? Among the big challenges to society of today we can see:
Exclusion-processes must be hindered
Democracy must be strengthened
We must think globally
Processes of exclusion are a big challenge for the Norwegian society – and even more so for individuals. Good teachers and social workers might have one of the most important and meaningful tasks imaginable: To make a difference in the lives of other people.
This year marks 10 years since the acts of terror that struck us all on July 22nd 2011. The terror aimed at the heart of democracy. In the years since, democracy as idea and praxis has been challenged in numerous countries and ways. Today, we not only need vaccines against corona virus, but also against authoritarian and undemocratic ideas. Education and research can bring resilience towards authoritarianism. And locally, I also hope new students contribute to democracy at Volda University College, being it in the Quality-board of each programme, in the Student parliament, or in the ruling board – Høgskulestyret – in which two student representatives are soon to be elected.
The third challenge to society I just mentioned is globalisation. Norway is a small country which always has been open to external impulses – and this is necessary also in the future. Not just because we need to import knowledge, but also because we have something important to convey in a polarised world, and this could be stated in the poem by Nordahl Grieg:

"Faith in this life of ours,
The common weal"

Nordahl Grieg, «Til Ungdommen«, Translation by Rod Sinclair, 2004
Some think that going global is all about maximising exports or capturing advantages in competition, by acquiring new knowledge. This is a far too narrowminded perspective. The core of thinking globally is all about creating a better world – together. And for this purpose we need to know our fellow man. And this is best done by – travelling.
Volda University College has more than 100 exchange-agreements with universities all over the world, and it's my sincere hope that in 2022 we can say farewell to corona-restrictions and that again it will be possible to travel freely.
I have talked a lot about learning – but as student you will also live – and experience. In this little local community of Volda, students since 1861 have experienced that life can be good – and there is a lot to be experienced. Being it cultural events, or hiking, skiing or boating.
You are now in a region of Norway which is home to several world-class tourist destinations. We have razor-sharp mountain peaks, wild winds and an abundance of clean water. But our mountains are unforgiving and people are killed in our mountains every year. So take care of yourselves and others. Gather the knowledge needed in order to hike safely – but also in order to get the most out of the experience, in a piece of Norway which also will give you memories – for life.
Best of luck with the academic year of 2020-2021.